Accessible Homes
For the past forty years, Natale Company and SafetyCare has been an innovative leader in accessibility for seniors, the disabled and the handicapped in Massachusetts. In a recent article published by The New York Times, there are tens of millions Americans living with either short or long-term physical disabilities, that today have many options options to modify their homes and remain at home for as long as possible.
Door Widening
Our team of expert construction workers are able to widen doorways that allow for a more comfortable passage through tight areas for those use wheelchairs or a walking aid. It is also recommended that all doors be equipped with easy to grasp door handles and that all thresholds be removed to allow for better accessibility.
Bathroom
Accessible Bathrooms
---
When deciding whether or not to make an investment in an accessible bathroom there are a number of factors to consider. The first and foremost is the prevention of serious injuries or falling. In some cases installing a couple of grab bars, a hand held shower, a shower chair and/or a raised toilet seat may help them achieve their goal of independent living.

Another factor would be that an individual requires a more accessible bathroom because they require the use of a wheelchair, walker or rollator. In these circumstances, some construction may be required to accommodate these individuals.
---
Accessible Showers
A good start would be to add an accessible shower that complies with American Disabilities Act (ADA). These showers have no curbs to impede an individual from transferring from their wheelchair or a walker into the shower. The shower floor and the bathroom floor are level with each other so as to allow for a safer and easier transition into the shower area.
---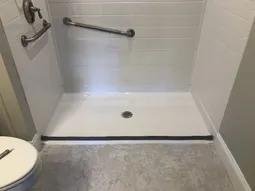 Accessible Shower Base
These barrier free showers allow for an accessible shower chair either mounted to the wall or free standing to give these individuals better range of options to bath. Adding a hand held shower completes the accessibility and allows for a safe shower.
---
Tub Cuts
An existing fiberglass, steel, or cast iron bathtub can have an opening cut through it for more access in and out of the tub.
---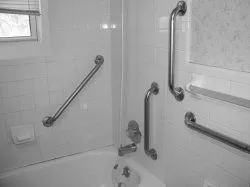 Safety Grab Bars
Grab bars should be installed inside and outside the shower to allow for a more complete transfer of individual. It is always essential to install these grab bars into the studs for safe and secure installation. Our SafetyCare installers are trained to deal with any situation that may arise.
---
Accessible Toilets
There are many options available to reduce the need for excessive raising or lowering after use. Some options include installation of either a raised toilet seat, toilet elevator which adds 3-5 inches, or a toilet safety frame. Our installers will ensure the right solution for your individual needs.
---
Accessible Vanities and Sinks
Sinks or vanities can be designed to allow a wheelchair easy access.